Quechan Casino Resort
Hot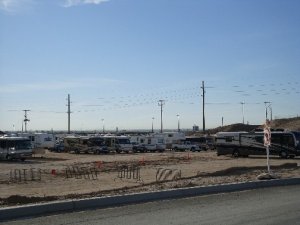 Contact Information
Phone Number:
877-783-2426
Phone Number2:
760-572-3900
Location
Address:
525 Algodones Road
Directions:
From I-8 take Exit 166
RV Parking and Camping Information
Overnight RV Parking Allowed:
Parking Rules:
Overnight RV parking is allowed.
1 night - $10
3 nights - $25
7 nights - $50


Parking Area Description:
Dirt Truck/RV lot on S side of casino. RV parking is in long straight lines designated by casino security on a dirt lot.
Casino Information
Liquor Served:
Types of Gaming
Slots
Video Poker
Table Games
Poker Room
Overnight RV Parking is OK, for a small fee.
Map
User reviews
NOT FREE -- Confirming prices for "Pay to Stay" 2019 1 night / $10 3/$25 7/$50 RV parking is in long straight lines designated by casino security -- packed in like sardines on a dirt lot (probably mud with rain). With all the FREE BLM land around Why would you pay to stay --- and if you're not staying there due to fee Why Play there ? ? Pass on by -- Nothing to see Here ( be like oB1-kenobi using the Force ) ! ! :-)
I don't know what it is with the casinos in this (Yuma) area. They simply can not make up their minds -- and it doesn't matter how much you spend in their casino. First they say "Come on in" and the next thing it's "Get the hell out."
Good solution for our stay
Stayed here while getting dental work done. Felt safe, minimal noise, access to city bus for border transportation.
Very large parking area. Easy access to freeway. Well marked.
RV lot was extremely crowded and had started taking up the truck parking area. No charge with no stay limit. Many RV's stay there for months during the winter. Close to Mexico for dental and optical care. Casino is nice and food is good.
No charge
(Updated: October 14, 2011)
Based on prior reviews, parked in dirt lot and went to get players club to get card. They knew nothing about having to check in for RV parking but took us to security office to verify. Person in charge of security called someone and came back saying there is no charge. One of them thought they tried a deal where you could earn the $5 back by putting points on your card. Security did explain no dumping, etc., and park at our risk. No problem. Buffet pretty good given it was almost closing time. Only complaint, dirt lot has sign saying RV parking to left and trucks to right, but trucks were spacing out well into RV area. Another RVer was real unhappy with their noise (I understand why they need to run all night, but the casino tried to mitigate with separate parking areas.) It was hot (mid-September) so few RVers. I wouldn't be surprised if some kind of fee might start when snowbirds return and lot fills up.
View all user reviews