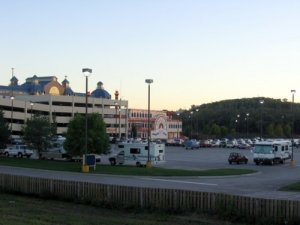 Contact Information
Phone Number:
712-328-8888
RV Parking and Camping Information
Overnight RV Parking Allowed:
Parking Rules:
Designated RV Parking area located in the rear of the casino.
Parking Area Description:
Part of the parking lot.
Casino Information
Liquor Served:
Overnight RV parking is OK
Map
User reviews
2

reviews

Campground/RV Resort

4.0 (1)
Have stayed here twice in 2 years. They have a designated RV area in the back but we asked security if we could park out front and they allow us both times. Very friendly, food was ex=trembly good and the wife enjoyed the games. We were the first to park out front both overnights and when we awoke in the am there were 5-6 more parked by us. Will stay again.
Large area for RV's in north lot behind casino. no permission needed, good security. short walk across lot to casino. nice grass area along side for pets. flooding is long gone. no hook ups.
Bike and walking path adjacent connects to Harrahs Casino to the north.
Report from Jim & Pat, August 4, 2010

Signage is great for RV parking EXCEPT the lot is flooded due to river overflow.

Thankfully an empty and old employee parking lot just past the RV lot allowed us to turn around! Called Casino for update info for RV parking. Off property (nearby), must cross Railroad tracks for semi truck parking with trailer storage units. Noisy. Not a close walk to Casino.
Report from Anonymous, August 31, 2009

Free overnight parking. I didn't inquire about a length of stay limit. We're only staying tonight. Permission not required. No check-in (per person who answered the phone when I called the casino's phone number. There is a sign at the entrance and along the way that says "RV Parking-North lot" Park on north side of lot (which you will do if you follow the signs) Level paved lot. Lots of room for big rigs. Well lighted. Distant Interstate and occasional train noise. Security patrol.

Easy walk to casino entrance. I saw parked shuttles but none running through this lot. There are very few cars or RVs at any of the town's four casinos tonight. There are four rigs parked here tonight.

Community bike path/walking trail visible and accessible from the casino. I don't know anymore about it. No pool, showers or dump station. Didn't eat at the buffet ($16.99) Played a few games of video poker but we only play the 5 cent machines. All of their video poker machines are 25 cents. Maybe they'll bring in some 1 cent ones soon as there is a whole roomful of slot machines that have been stored unplugged. I assume that they've been replaced by 1 cent machines. Nothing for kids to do.
- from reader Karen B, October 2006.

We stayed here for several nights but only played in the casino for a few hours so I can't report on that.

To get to the RV parking make a right after turning into the casino entrance and follow the signs. This takes you to a large parking area with easy access to the riverboat. No specific area marked for RVs.

There's a paved bike trail on the levee behind the parking lot and it's an easy walk to Harrah's riverboat. (didn't check out this casino)

There are many other attractions besides the casinos in Council Bluffs which makes it a very interesting area to visit. Photo is taken from the levee.